TVAM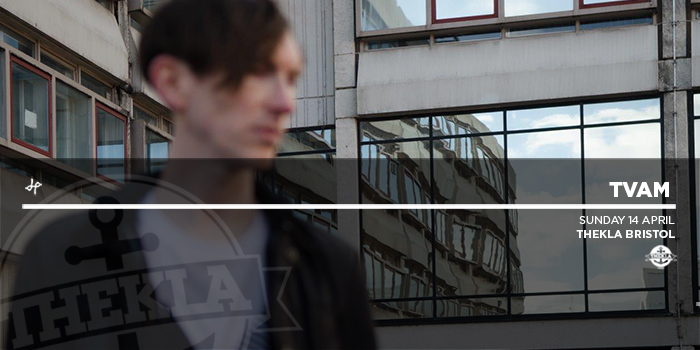 2018 was some year for TVAM, aka one-man electro / psych machine Joe Oxley. His debut album Psychic Data was released to much acclaim in October having spawned a couple of BBC 6Music playlisted tracks, Narcisssus and These Are Not Your Memories (A-listed) and along the way sold out shows across the U.K. and remixed the likes of Tuung, Amber Arcades and The KVB.
By the end of the year the album was rightly hailed as one of the best of 2018 with independent record shops Resident Music in Brighton and Piccadilly in Manchester both putting it in the top ten of their end of year 'best of' lists.
And now he returns with Bitplain, the latest track to be taken from the album, accompanied by one of his self produced videos which sit somewhere between Adam Curtis and BBC schools and form part of his live performances.
Beats rub each other up the wrong way, fuzz guitar shouts to be heard and titanic synths sink your battleship. From this all out war comes brief relief as Joe Oxley comforts us with the voice of a modern day psychic healer. Bitplain soothes like an ocean of calm, a safe space, impermeable to fact and fiction. Against the harsh noise of our polarised digital personalities, and the permanence / impermanence of our digital history, TVAM gently reminds us of our responsibilities.
As we recreate ourselves in noughts and ones, our bodies will crumble to dust but our digital legacy will last forever.
Oxley says, "It's about the feeling that everyone you know is slowly weaving their own narrative reality. Politicians, companies, media commentators, all shaping actuality… super-charged by technology and repeated by the herd. Bitplain is a vain hope that the truth will catch us all in the end."
Additionally, having sold-out the initial run, his debut album will receive a 2nd vinyl pressing to coincide with the tour. The album will be re-issued on April 26th.
Finally, he returns in April for a run of headline shows, including a show at London's Electrowerkz. Additionally he has been confirmed for a number of festivals over the summer, including Bluedot alongside Kraftwerk and New Order.
SUNDAY 14 APRIL
THEKLA BRISTOL
The Grove, Bristol BS1 4RB
Doors 7:30pm
Ages 14+
Advance tickets available from:
www.alttickets.com
www.gigantic.com
www.bristolticketshop.co.uk