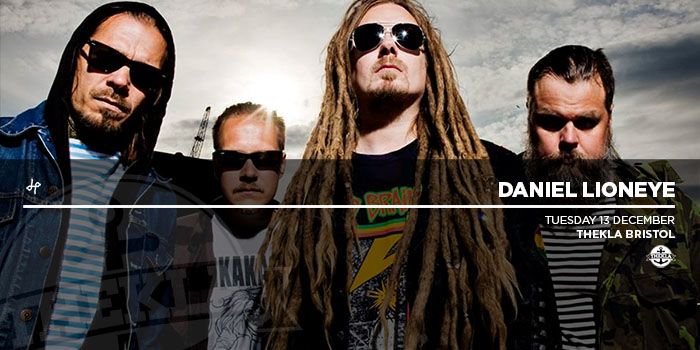 Daniel Lioneye was first formed in 2001 and originally consisted of Ville Valo (HIM) on drums, Mige (HIM) on bass and Linde (HIM) on guitar and vocals. They released one album in the year they formed called "The King Of Rock 'n' Roll," which was a 'tongue in cheek' psychedelic stoner rock album that was only released in Finland and in Germany. They did a few festival shows in Finland under the name "Daniel Lioneye And The Joint Rollers," and the title track of the album ended up being the theme song for Bam Margera's TV show, "Viva La Bam." In 2006, "The King Of Rock 'n' Roll" was the most played Finnish song in the world (right after Sibelius, of course).
In 20…08, Linde felt the need to do another Daniel Lioneye album and wanted it to be completely different than the last. Daniel Lioneye has always been about breaking boundaries so it's only natural that the second album takes a new direction. The new album is simply called "VOL II" and is heavier than the previous album, making it an extreme rock n' roll album with influences from black metal. The album is inspired by dealing with difficult situations and people, existential and religious crisis, cannabis psychosis, extreme nightmares, self-realization, sex, moving on, standing up for yourself, anger management and the universe. It's a representation of everyday life.
Daniel Lioneye is Sepi on drums, Burton (HIM) on keyboards and Linde (HIM) on guitars, bass and vocals.
TUESDAY 13 DECEMBER
The Grove, Bristol BS1 4RB
Doors 7pm
Ages 14+
Advance tickets available from:
www.alt-tickets.co.uk
www.gigantic.com
www.bristolticketshop.co.uk