Friday 31st March 2017
Supported by:

The Rumble

Doors open:

at 7:00pm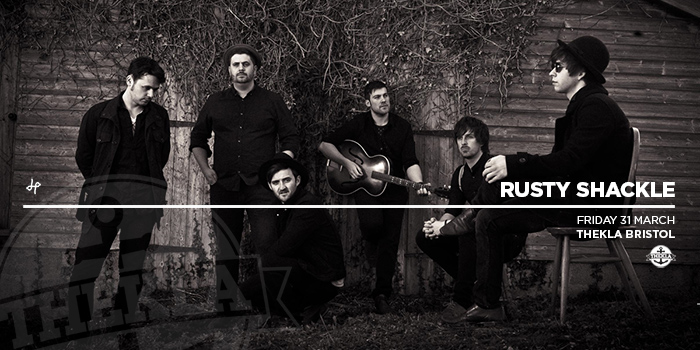 Rusty Shackle are an indie folk band from Wales that have been captivating audiences with their incredible live performances since the early months of 2010. Their shows blend well crafted catchy tunes with stunning high-energy level performances which will make sure you'll leave exhausted with their tunes swimming around your head for days afterwards.
The six-piece group are made up of band members Liam Collins, Baz Barwick, Owen Emmanuel, Ryan Williams and brothers Scott and James McKeon. They combine guitars, fiddle, banjo, bass, mandola, trumpet, tenor guitar and tight vocal harmonies to create a sound that is unique to them and one that instantly fills you with emotion a
...
nd energy. Rusty Shackle draw influences from folk, roots, rock and mix it all up with a Celtic slant.

FRIDAY 31 MARCH

THEKLA BRISTOL
The Grove, Bristol BS1 4RB
Doors 7:00pm
Ages 14+

Advance tickets available from:
www.alttickets.com
www.gigantic.com
www.bristolticketshop.co.uk